Contact Center
https://www.hgsdigital.com/thanks-for-booking-a-strategy-consultation
Cloud

Accelerator

Faster, more efficient, secure cloud migrations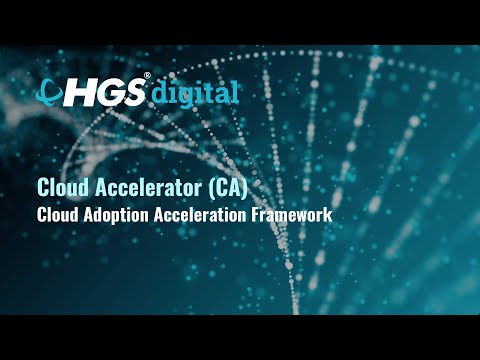 Cloud Accelerator provides a secure and operationally efficient cloud ecosystem, allowing companies to focus on what matters – adding value for their customers. It saves enterprises time and money and accelerates cloud adoption.
Removes fears and barriers to expeditious cloud adoption.
Supports multi-cloud/hybrid cloud strategy.
Ensures security and governance best practices are in place for all deployments.
Eliminates opportunity for human error/deviance from policies/best practices.
Reduce costs by
​​​​​​​roughly
80

%
when leveraging our tool vs. custom build solution.
Average workload migration times reduced down to
2-3

wks
Average account infrastructure provisioning time reduced down to
30

min
Cloud Accelerator Framework
Cloud Accelerator is a cloud adoption acceleration framework that combines:
Proprietary tools
Best practices culled from decades of experience
Security and governance
Automation
We align with your team to define and establish your best practices, requirements and security guardrails to be used as a repeatable framework you can leverage moving forward across our enterprise initiative – reducing churn and rework.
Professional Services
Cloud Strategy Consulting Services to align your team, budgets, approvals, execution strategy, and help you gain enterprise buy-in for cloud.
Implementation Services for Cloud Accelerator with if/as needed customizations.
Terraform and Vault Consulting Services – Install and configure; integration and training.
Cloud Experts on Demand - Seasoned cloud experts supplement your team on a project basis or short- or- long term staff augmentation engagements.
Managed Services
24X7 Monitoring Service – 24X7 support desk with L1 support, monitoring, alerts, monthly reporting, and training and access to monitoring tool.
24X7 Cloud Support Service - 24/7 Support desk with L1-L3 issue resolution support assistance, root cause analysis and monthly reporting.
Cloud Security Services - 24/7 Security Monitoring and Analytics, Security Incident Response, Compliance and Consultancy/Policy Formation, Audits and Assessments, and Threat Intelligence and Vulnerability Management.
Let's get
started
Give us 30 minutes, and we'll exchange ideas on how to improve the efficiency of your contact center using AI, intelligent automation, chat bots, and other modern technologies—in short, we can start to discuss your cognitive contact center options. Aren't the satisfaction of your customers and the happiness of your employees worth 30 minutes?